Dock66 Motorcycle Parts
The Story
Dock66 Motorcycle Parts is one of the leading webshops and mail-order companies for accesories and spare parts for US bikes, custom motorcycles and classic bikes. Everything begins in a small garage in the city of Duisburg/Germany in 1991 where Frank Muschalla starts trading with classic motorbikes.
At that time the coolest motorcycles are available in the USA – especially extraordinary Harley-Davidsons. So Frank and his partners take several trips a year to the US east coast to fill containers with bikes and stuff. To make the trips easier Frank uses his own hauling cars in America, like a '66 Dodge D100 or a Ford E150 Van – both powered by a V8 engine. After collecting all bikes Frank must go the same procedure as every time: load the container for shipping, fix the bikes with tie-downs and fly back to Germany immediately.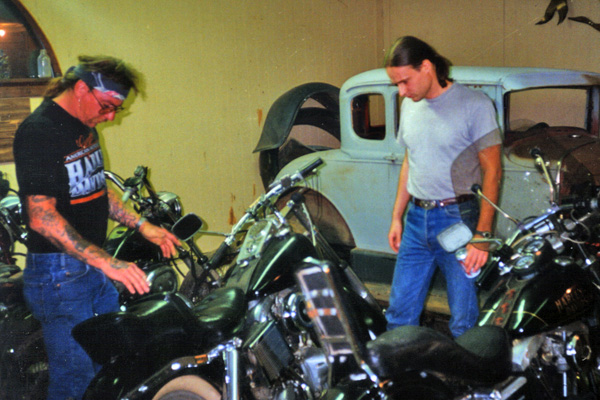 Soon the old garage is getting to small. So Frank decides to move to a shop to Duisburg-Ruhrort. Finally he can present all the motorcycles in a showroom and offer full services like repair, customizing and parts sale. The brand receives its name Dock66 Classic Motorcycles and picks up speed.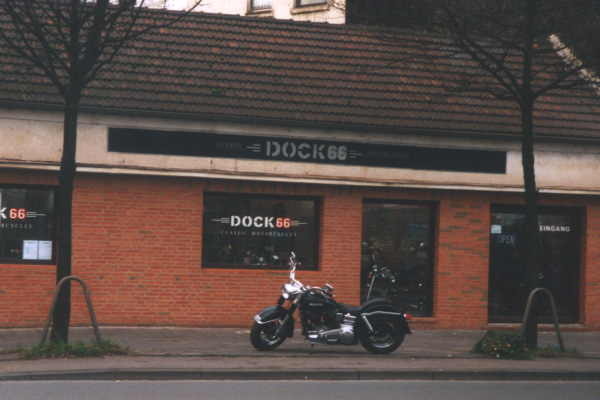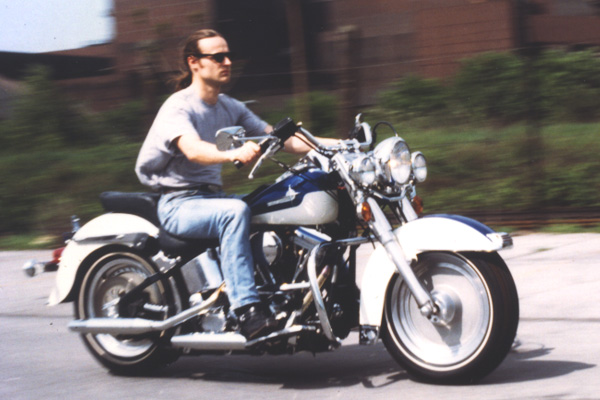 Dock66 is growing rapidly. Bike fairs, swap meets, rallies and steady journeys to the USA are part of the regular duties of the crew. In 1999 also the shop in Duisburg is undersized for the jobs of a prospering motorcycle shop. Next step is a big shop in Voerde with huge salesroom, warehouse and well equipped workshop. Softails, Sportsters, Electra Glides, British Triumphs or Honda Cruisers are displayed between antique gas pumps on shiny tiles. Customizing is getting one of the main services of Dock66. Groundbraking projects result this stage – like the Dockster series, the award-winning Golden Softail or lots of classic FLH builds.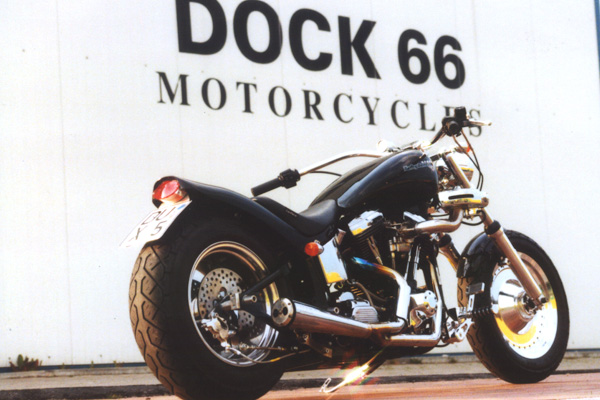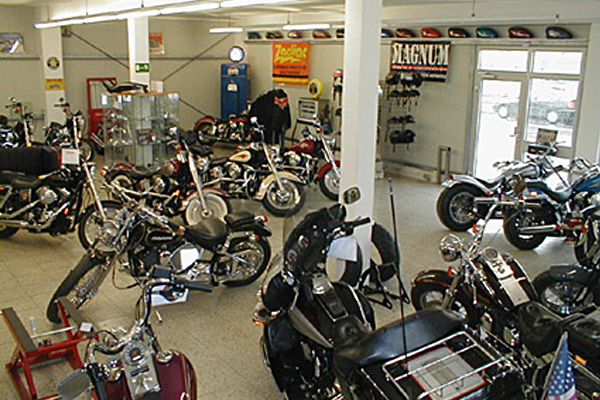 Missing supplies from the USA and an addition to the family leads to a change to a mail-order company in 2003. First location is Alpen, from 2007 "Dock66 Motorcyle Parts" renamed brand moves to a warehouse in Rheinberg. The company now must live without walk-in customers, but customers from all over Europe can be accessed via internet. Workflow has to be reviewed for orderning and selling accessories, spare parts and supplies for classic, custom and US motorcycles via internet. Dock66 arrives in the digital age.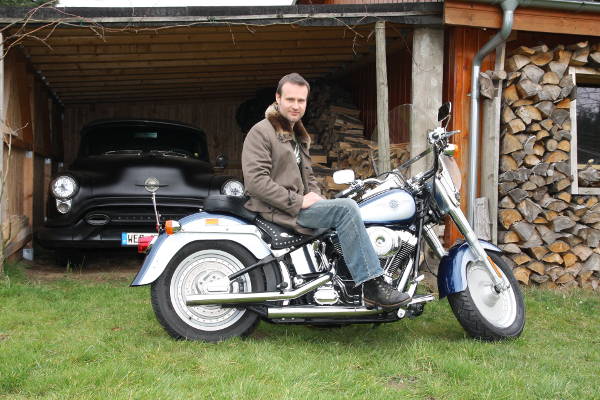 After moving again in 2010 to a brick commercial hall at Eurotec area in Moers Dock66 has sufficient space for a growing business and to park and restore the personal bikes and cars. Classic and vintage US cars like Hot Rods from the 30s or a '55 Cadillac Convertible find their way into the new headquarter. Because Dock66 owner Frank's passion is not only motorcycles but also US cars. So from 2005 a super fast Chevy Bel Air flies the flag of Dock66 at many drag racing events.
A next move came in 2015: back to the place where Dock66 once started, to Duisburg. An 800 square metres large and former wholesale bakery in the Neudorf district is the new extensive home base of the company. The building offers everything needed for a modern mail-order business: a huge warehouse, a contemporary forwarding department and an office with advanced and progressive equipment. In 2017 the brand established a line of clothing called Dock66 Riding Gear. Dock66 is non-stop investing in inventory, development of new products, in solar technology for emmission-free energy production and last but not least in their employees. So the Dock66 stuff are technical competent and real experts in managing the distribution of motorcycle parts. Nearly every item in the shop is always in stock. Because the Dock66 team knows: Anyone wanting to sell today needs to have the products on-site. Ready to go.